Swedish tech firm Candela has announced its hydrofoiling C-8 Centre Console, a boat set to electrify the centre console segment. Centre consoles are the most popular recreational vessels as around 50,000 are sold each year in the US for fishing, water sports, and more.
Centre console boats are traditionally power-consuming vessels. The C-8 CC will electrify the experience with increased speed, range, and energy efficiency which is deemed several times higher than traditional gas boats.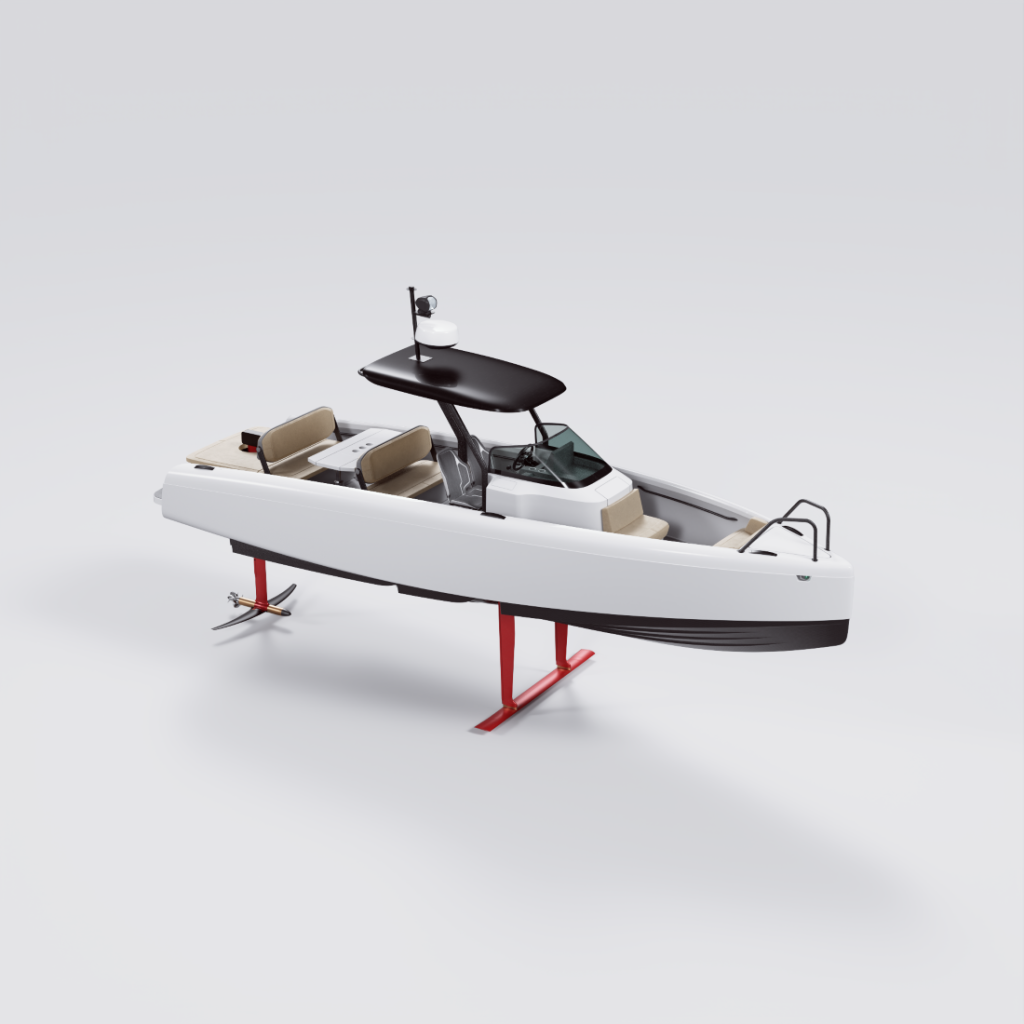 The Candela C-8 CC uses 80% less energy than conventional vee hulls which allows for a range of 65 miles with a 22 knots/25mph cruising speed, three times longer than other electric boats.
Candela aims to accelerate a shift to fossil-fuel free lakes and oceans through the popular segment. Gustav Hasselskog, founder and CEO of Candela, says: "They're very versatile and cater to a lot of needs; fishing, water sports, socialising – the whole concept of a centre console boat is to maximise the use of the full length of the boat for seating, sunbeds, and gear, in order to enjoy a day at sea.
"The layout is very much focused on outdoor space. This originally American boat type has become hugely popular in later years, with tons of European makers such as Nimbus, Axopar, Ryck, Quarken and others selling hugely popular models."
The computer-guided hydrofoils
There is a 15.4″ navigational screen and free over-the-air updates of the User Interface and Flight controller. The boat operates on computer-guided hydrofoils and underwater wing, the C-8 CC flight controller is the computer which adjusts the hydrofoils to ensure the smooth drive.
The foils retract into the hull for mooring when the touchscreen is accessed. Hydrofoils retract for storage on a trailer or beached.
Hasselskog says: "It uses the same system as the Candela C-8 Daycruiser, and same technical platform. Once the boat is flying, it's an inherently unstable vessel, just like quadcopter drones or some jet fighters. It requires a computer – the Flight controller – which measures the 'terrain' – waves – ahead of the boat to assess how high the boat is flying.
"Other sensors, such as a gyro and accelerometer – measures where the boat is in space, on the x,y,z axis. All this data is fed into the Flight controller which then adjusts the angle of attack and twists the hydrofoil to control it on roll and ride height.
"Regulating the foil 100 times per second keeps the boat stable, even in wind and waves. Once this complicated system works 100% – which it does after 8 years of R&D – it provides a completely calm and steady ride even in chop and wind."
The motor
The Candela C-POD motor converts stored electricity in the batteries to thrust and propel the boat forward.
Traditional 28/29-foot deep-vee boats are equipped with a pair of 400hp outboards which use from 1.5 to 2.5 litres per nautical mile at 20-25 knots which is equivalent to 15-20 kWh of energy per nautical mile.
However, a Candela C-8 CC uses 1.2 kWh per nautical mile, its single 100hp pod motor allows the bus to operate at a cost of less than 10 dollars for a full battery charge. No maintenance of the motor is required for 3,000 hours.
At anchor, the boat has an open bow with seating, a wet bar and sofas for six passengers placed around a table. There is also an enclosed head, a sunbed, an extended swimming platform with a shower and a six-speaker in-hull stereo system. In addition, there are angler features such as rod holders and depth sounder.
Candela spokesperson Mikael Mahlberg says: "We're designing the best-looking boats we can, minimalistic, sleek and user-friendly. That also goes into the user interface, which is more akin to an iPad than a traditional navigation system, which are quite awkward to navigate.
"We believe in carrot over stick, making desirable products that will sell on performance, attractiveness."
Candela's engineers and technicians worked on the hydrofoil system and software since 2014. Through a partnership with electric car maker Polestar, C-8 models are powered by Polestar batteries. The Centre Console has the same technical platform as the Daycruiser version of the Candela C-8 which is deemed the best-selling electric boat in the US.
Mahlberg says: "Software for flying electric boats is hard. And fluid dynamics, and other mechanical challenges. But this we've solved for the C-8 Daycruiser, and we can now benefit from that to use this platform for Candela C-8 Centre Console."
The Candela C-POD direct-drive pod motor offers a smoother ride, preventing seasickness, and a near-silent ride because which can be an advantage for those who use the boat for fishing. The rpm of the motor can be adjusted for any speed down to 0.2 knots. Sustainability is promoted as there is no wake that damages shorelines or marine life.
The boat is made from 100% carbon fibre and starts at $390,000. Pre-orders are now available and deliveries are targeted for summer next year.